Andrzej ( a.k.a. Andreas ) Szpilman born 1956 Warsaw/Poland
Andrzej Szpilman started his music education in 1962 under Prof. S. Kawalla (violin) and later from 1965 until 1974 in the 4th State School of Music in Warsaw (class of Prof. Nasalska violin and later viola).
In 1976 he started to record for Polish Radio as composer and music producer.
He has worked with the most popular Polish singers - I. Santor, H. Banaszak, G. Switala, B. Mec, J. Kruk (former "Two Plus One") a.o., accompanied by the Warsaw Radio Orchestra and Poznan Radio Orchestra. 1980-81, as a music director Andrzej Szpilman produced several shows for TV-Poland. 1982-83 he became the producer of the first record by the most popular rock-groups of the 80´s in Poland, "Oddzial Zamkniety" (Close Department), which sold about 450.000 records in 1983 and received "Gold Record 83" from the Polish Recording Company. His most known hits was "Slonce tego lata" (with Renata Maklakiewicz) and "Gandzia" aka "Andzia i ja" (with Marcin Ciempiel. Besides his artistic activities he studied Dentistry at the Warsaw Medical Academy
In 1983 he moved to Hamburg / Germany. Until 1988 he worked as an Assistant Professor at the Conservative Dentistry
Department of the University of Hamburg, and later continued to work in his own dental office in Hamburg/Altona until 2000.
1987 Andrzej Szpilman founded his own "Musik Studio Altona", where he continued to work on his film ballet and theater music. At that time he composed the ballet "Incense" (choreographer Gamal Gouda) for the Hamburg Opera , as well as Soundtracks like "I tam zostane juz na zawsze" and "Kolejka" - for TV-Poland, and some small pieces for theater and songs for Polish Radio.
1996 - 2004 he is engineered CD`s for the famous German songwriter and poet Wolf Biermann.
He has also remastered the complete recording anthology of Wolf Biermann 1968-97 (21 records).
In 1997 Andrzej Szpilman prepared the publication of the memoir "The Pianist" written 1945 by his father Wladyslaw Szpilman for the German publisher "ECON" (1998) and later for British Publisher "Orion" (1999). The Pianist became an international bestseller and was recognised as an important documents of The Holocaust. It was named Book of the Year by several international newspapers (LA Times, Washington Post, Independent, Lire), as well as being translated into more than 30 languages.
In November 2000 he produced a TV concert "Tribute to Wladyslaw Szpilman"in Warsaw.
2001-2002 he returned to producing and moderating with a concert show at the Polish Radio entitled: "Microphon for everybody".
Szpilman also assisted in the production of Roman Polanski's film The Pianist (2002) and later cooperated on the PR-work with the US, German, Swiss, Italian and Polish movie distributors.
In 2002 he became independent executive producer for Universal Music, Sony Classical and Sherman Records Ca. and prepared the CDs with Wladyslaw Szpilman's music: Wendy Lands sings the songs of the Pianist (2002) (Universal Music), and also a CD's Original recordings of the Pianist (2002) Works for Piano and Orchestra by Wladyslaw Szpilman with Ewa Kupiec-Piano, John Axelrod-Director and Berliner Radio Symphony Orchestra (2004), as well as Wladyslaw Szpilman - Legendary recordings (2005) (Sony Classical).
Andrzej Szpilman is also working with "Boosey & Hawkes" Music Publishers on the publication of the complete works by Wladyslaw Szpilman.
Currently he is working on the TV documentary on the life of Wladyslaw Szpilman.
international herald tribune

The son of the Polish Holocaust survivor who was the subject of Roman
Polanski 's Oscar-winning film "The Pianist" hailed the awards as a
tribute to the victims of World War II. The academy "appreciated the
fate that befell my father, the total degradation of a well-known
artist under war conditions," said Andrzej Szpilman , a doctor who
lives in Europe and who attended the Academy Award ceremony in Los
Angeles. The film tells the story of Wladyslaw Szpilman , a Jewish
pianist in Warsaw. It won three Oscars: best director; best actor, and
best adapted screenplay.(Wednesday, March 26, 2003)
---
Son of ''The Pianist'' Releases Father's Songs

Andrzej Szpilman, whose father Wladyslaw Szpilman is the focus of Roman Polanski's Oscar-nominated film The Pianist, has spearheaded an album of his father's love songs, pop classics in Poland from the 1940s and 1950s, titled Wendy Lands Sings the Music of the Pianist--Wladyslaw Szpilman, Reuters reports. Famous in prewar Poland for his film scores and popular songs, Wladyslaw Szpilman performed Polish radio's last live music broadcast on Sept. 23, 1939, as German shells knocked out the station's power. When Radio Warsaw resumed broadcasting in 1945, it picked up exactly where it left off--with Szpilman playing the same Chopin nocturne he performed in 1939. He wrote his story down following the war, and it was published in 1946. The memoir was then banned by communist authorities and forgotten until it was reissued, due to his son's insistence, shortly before Wladyslaw Szpilman's death in 2000. (http://www.nypost.com/entertainment/movies/news/n5322.htm)

---

Out of the ashes of WWII, a captivating new album

The San Diego Union - Tribune; San Diego, Calif.; Mar 23, 2003; George Varga;

The artistic worlds of Poland, Canada and California meet on the captivating album "Wendy Lands Sings the Music of the Pianist Wladyslaw Szpilman."

Szpilman is, of course, the Polish composer and Holocaust survivor whose life is the subject of "The Pianist." That acclaimed film earned Oscar nominations for Best Film, Director (Roman Polanski) and Actor (Adrian Brody), as well as for its cinematography, editing, costume design and adapted screenplay.

Lands is best known for the title song from her album, "Angels and Ordinary Men," which in 1987 topped the pop singles charts in her Canadian homeland. She was judged the best of 30 singers who auditioned to perform on the album that became "Lands Sings Szpilman," which was released late last year on Hip-O Records.

The California part of the equation is veteran bassist and arranger John Leftwich, a former San Diegan who in the 1970s played here in Peter Sprague's Dance of the Universe Orchestra. Leftwich has since worked with artists as varied as Lyle Lovett, Rickie Lee Jones, Lifehouse, Tori Amos and the Eels, as well as with such jazz greats as Carmen McCrae, Stan Getz and Freddie Hubbard.

Leftwich was selected to produce, arrange and perform on all 12 songs on "Lands Sings Szpilman," and he handles each role with aplomb.

"I think my background in jazz and pop is why I got the job," Leftwich said.

While Americans have become aware of Szpilman's accomplishments in classical music through "The Pianist," few know he was also an accomplished jazz and pop composer, and that he enjoyed a string of hits in Poland in the 1940s and '50s.

Eager to introduce listeners here to the songs of his father (who died in 1989), Szpilman's son, Andrzej, came to California last year to get an album made. The mandate given to Leftwich was to redo the songs so that they'd appeal to fans of Norah Jones and Joni Mitchell, as per the younger Szpilman's instructions.

"My father was writing some of these songs as far back as 1937, and two of them in 1941, in the Warsaw ghetto," Andrzej Szpilman said from his home in Hamburg, Germany.

"He was working there until my father's parents were deported to Treblinka. Until then, there was a very strong culture in the ghetto, with orchestras, jazz big bands and a lot of cabarets. I felt the songs of my father were universal and would not be strange for American audiences."

Rather than translate the original Polish lyrics, Leftwich hired veteran American songwriters to create new lyrics in English. By coincidence, three of them -- David Batteau, Larry John McNally and Michael Ruff -- all previously contributed to albums by Bonnie Raitt.

"Nearly all of these songs by Szpilman were written as jazz tunes," Leftwich said from his Laurel Canyon home, where the album was recorded.

"But we wanted to go in more of a pop direction, so I rewrote all the (chord) changes. There's a sort of Cole Porter/Duke Ellington vibe, so some of it sounds jazzy and some of it has a pop sensibility."

Lands sings the new lyrics to Szpilman's decades-old songs as if she were born to them.

"Creatively, it was a completely blank canvas," Lands said from Los Angeles, where she lives with her husband, jazz drummer Jim Gillard.

"So I listened to my heart and sang. Nothing was anticipated, because the way I learned all the melodies was from CDs recorded in Poland. It's pretty remarkable that there is a thematic continuity, given the different lyricists who worked on the album.

"I attribute it to Szpilman's melodies, which are timeless and sweepingly romantic. His music has taken me on a journey I never thought I'd go on, and John's vision for this project was phenomenal."

Lands and Leftwich describe Andrzej Szpilman as being both very proud and protective of his father's work. The younger Szpilman, a recently retired professor of dentistry, is delighted by how the album turned out.

"Wendy has perfect pitch. You feel every moment that she's like a musician playing her instrument, and she doesn't need to sing loudly to impress you," said Andrzej Szpilman, 46, who in the 1980s wrote "Ganja," a wonderfully subversive Polish New Wave rock hit for the band Oddzial Zamkmiety (Solitary Confinement).

"And John I already knew as a jazz bassist and for his work with Rickie Lee Jones," he continued. "I'm very happy we got him as a producer. He presented my father's music in a right and respectful way, and everything I wished the album would be was achieved."

The album has brought critical acclaim to Leftwich, a 1983 UCSD music graduate whose classmates included fellow bass phenoms Nathan East and Mark Dresser.

Lands, meanwhile, has a high-profile new manager. On March 12, she and her new band made their debut in Los Angeles performing songs from the "Lands Sings Szpilman" album.

And Andrzej Szpilman is so encouraged by how the album turned out that he's now planning an ambitious musical that will feature his father's music and lyrics by David Batteau, one of the contributors to "Lands Sings Szpilman."

"Everybody in Poland knows my father's songs," Andrzej Szpilman said. "Now, I want the world to know them."
---
Jewish Journal Los Angeles
2003-01-17


Memory Through Music

Wladyslaw Szpilman's jazzier tunes have made their way onto a new CD, thanks to his son, Andrzej.

by Naomi Pfefferman, Arts & Entertainment Editor


When Andrzej Szpilman was 12, he furtively rummaged through a chest high on a shelf of a closed wardrobe in his Warsaw home. Inside the closet, he found 10 copies of a book and, recognizing his father as the author, hid one in his third-story bedroom. "I read it and received a shock," said Andrzej Szpilman, 46, a dentist and record producer who immigrated to Germany in 1983.

The book was "Death of a City," his father, Wladyslaw's, grittily brutal, dispassionate 1946 memoir of hiding in and around the Warsaw Ghetto. Since Roman Polanski turned the book into a searing film, "The Pianist" — which won four National Society of Film Critics Awards and is up for two Golden Globes on Sunday — Szpilman has become one of the best-known Holocaust survivors in history.

But on that fateful 1968 day, his dramatic story was news to his son. "He had never once spoken of his experience," Andrzej Szpilman said. "He never even told me he was Jewish. I think it hurt him to talk about it, because he survived and all his family perished."

More than three decades after he discovered "The Pianist" hidden in a wardrobe, Andrzej Szpilman has made it his mission to bring his father's life story out of the closet, literally. In 1999, he spearheaded the reissue of the memoir, which had been banned by the communist regime and ultimately captivated Polanski. When Polanski's screenplay depicted his father only as a virtuoso pianist, he produced CDs highlighting his father's work as a classical composer and the author of more than 500 pop songs.

The latest, "Wendy Lands Sings the Music of The Pianist Wladyslaw Szpilman," recently released by Universal's Hip-O Records, is a well-received collection of jazzy ditties Szpilman (1911-2000) wrote from the 1930s to the 1960s. "In the film, we see [Poles] helping my father because they knew his Chopin performances, but the real reason most people knew him and hid him was from his hit songs," his son said. "He owes his survival to this kind of music."

In April, with his friend, Sherman Heinig, a German music industry veteran based in Los Angeles, Andrzej Szpilman brought in producer/arranger John Leftwich, who had worked with Rickie Lee Jones. Together, they hired writers to create new, English-language lyrics and auditioned about 30 singers before selecting Canadian-born chanteuse Wendy Lands. The venture is unusual because few scripted films have been able to generate nonsoundtrack albums, according to Variety.

Andrzej Szpilman said he initially invested his own money in the project because his father, while famous in Poland, never had the chance to promote his work in the West. "His career was essentially [stunted] by the Nazis and then the communists," he said. "But it was painful for me that people thought of his music as only good enough for the Polish market. It's my ambition to make it popular to a worldwide audience. That's one way I can honor his memory."

When Andrzej Szpilman began working on reissuing "The Pianist," he said his father, then in his late 80s, wasn't interested in the slightest. "He said, 'Do whatever you want, but no one will read it,'" his son recalled. Instead, the book became a critically acclaimed bestseller published in 20 languages.

Wladyslaw Szpilman did agree to help publicize the memoir by appearing at book signings and speaking to readers, the first time his son ever heard him talk about the war. "But it was strange," he said. "He hadn't read the book in 50 years — in fact he never re-read it — but when he spoke he used the exact same sentences he'd written in '46. Like the book, his tone was detached. He sounded like a computer."

Nevertheless, the elder Szpilman was pleased when the book drew Polanski's attention and that of Dr. Noreen Green, artistic director of the Los Angeles Jewish Symphony, who conducted the 2001 world premiere of a piece mentioned in the memoir. In the book, Szpilman describes a Gershwinesque "Concertino for Piano and Orchestra" he wrote while languishing in the Warsaw Ghetto. "What struck me was the discrepancy between the wonderful, optimistic music and the terrible conditions under which it was written," Green said.

Andrzej Szpilman — who included the piece on a CD, "Music Inspired by the Motion Picture 'The Pianist'" — believes the breezy "Concertino" provides clues to his late father's psychology. So do the upbeat songs, featured on the Lands disc, Szpilman wrote during the Holocaust and the communist regime's anti-Semitic purge of 1968. "My father didn't like to talk about these things, but writing music was his way of coping," his son said.


---
"The Pianist's Story" – An Evening With Andrzej Szpilman

On May 14, 2003 Andrzej Szpilman, son of Wladyslaw Szpilman – The Pianist, was featured for an evening of talk and music at the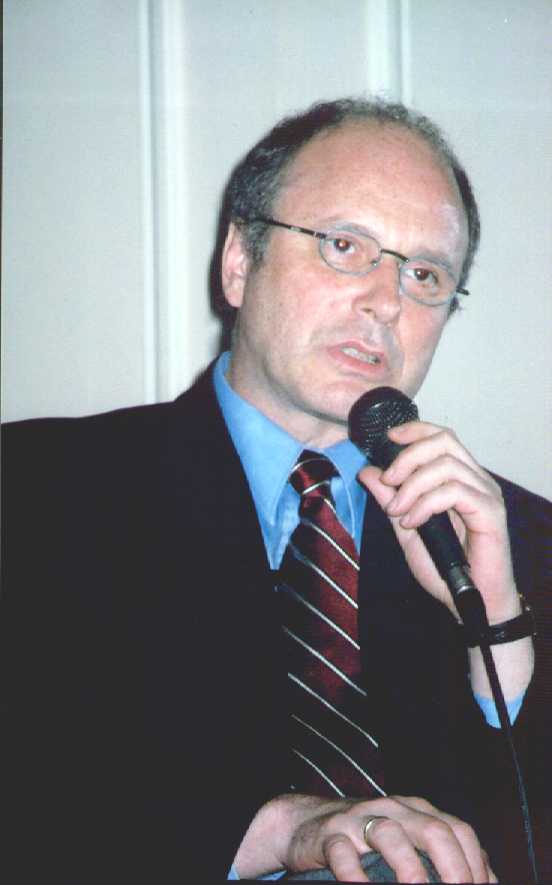 Polish Embassy in Washington, DC. The event was co-sponsored by The Thursday Dinner Society as inspired by Polish King Stanislaw August Poniatowski. Mr. Szpilman (left) addressed the audience at length concerning the life and times of his now famous father. He told the very interesting story of how and why his father wrote the book The Pianist: The Extraordinary True Story of One Man's Survival in Warsaw, 1939-1945. Recently the book was made into the celebrated and internationally acclaimed movie The Pianist by director Roman Polanski.

Also recounted were many personal and professional anecdotes and vignettes on all aspects of Wladyslaw Szpilman's life which held the audience spellbound for over one hour.

The Szpilman presentation was followed by a lively and very informative question and answer period as well as an interlude of entertaining piano music and a sumptuous Polish buffet.


text and photographs by Richard P. Poremski
Published originally in Polish American Journal, Buffalo, NY.
---
---
Wladyslaw Szpilman The Pianist Homepage