Andrzej ( a.k.a. Andreas ) Szpilman
Andrzej Szpilman (ur. 1956 w Warszawie) – kompozytor, producent muzyczny i lekarz dentysta.
Od 1978 roku wspólpracowal jako kompozytor piosenek m.in. z Hanna Banaszak, Irena Santor, Grazyna Switala, Boguslawem Mecem.
W 1983 roku wspólprodukowal pierwsza plyte Oddzialu Zamknietego z piosenka "Andzia i ja" (wspólnie z Marcinem Ciempielem). Od 1983 roku za granica wspólpracuje z Wolfem Biermannem, Wendy Lands oraz innymi wykonawcami,
produkujac nagrania muzyczne dla takich wytwórni jak Universal Music USA, Sony Europe, a takze w Polsce. W 1998 roku skomponowal muzyke do baletu Incense w choreografii Gamala Gouda wystawionego w Operze Hamburskiej. W 1998-99 roku skomponowae muzyke do filmów "Jej Wysokosc Kolejka" i "I Tam Zostalem juz Na Zawsze" w rez. Tadeusza Smiarowskiego.
W 1998 roku wydal ksiazke swojego ojca, W?adyslawa Szpilmana pt. Pianista, która zyskala swiatowy rozglos (m.in. tlumaczenia na ponad 35 jezyków). Pózniej doprowadzil do ekranizacji filmowej Pianisty w rezyserii Romana Polanskiego, filmu nagrodzonego m.in. 3 Oscarami i Zlot? Palma w Cannes).
W latach 2000-2001 prowadzil konkurs radiowy w Studiu S=1 pt."Mikrofon dla Wszystkich". Od 2003 roku produkowal CDs w Los Angeles, biorac jednoczesnie wspóludzia? w promocji filmu "Pianista" Romana Polanskiego w USA, Niemczech, Szwajcarii, Wloszech i Polsce.
Wyprodukowal pózniej w Sony Classical szereg plyt CD z nagraniami i kompozycjami Wladyslawa Szpilmana.
Obecnie przygotowuje 90-minutowy film o W?adyslawie Szpilmanie we wlasnej rezyserii w Koprodukcji ze studiem w USA.

---
international herald tribune

The son of the Polish Holocaust survivor who was the subject of Roman
Polanski 's Oscar-winning film "The Pianist" hailed the awards as a
tribute to the victims of World War II. The academy "appreciated the
fate that befell my father, the total degradation of a well-known
artist under war conditions," said Andrzej Szpilman , a doctor who
lives in Europe and who attended the Academy Award ceremony in Los
Angeles. The film tells the story of Wladyslaw Szpilman , a Jewish
pianist in Warsaw. It won three Oscars: best director; best actor, and
best adapted screenplay.(Wednesday, March 26, 2003)
---
Son of ''The Pianist'' Releases Father's Songs

Andrzej Szpilman, whose father Wladyslaw Szpilman is the focus of Roman Polanski's Oscar-nominated film The Pianist, has spearheaded an album of his father's love songs, pop classics in Poland from the 1940s and 1950s, titled Wendy Lands Sings the Music of the Pianist--Wladyslaw Szpilman, Reuters reports. Famous in prewar Poland for his film scores and popular songs, Wladyslaw Szpilman performed Polish radio's last live music broadcast on Sept. 23, 1939, as German shells knocked out the station's power. When Radio Warsaw resumed broadcasting in 1945, it picked up exactly where it left off--with Szpilman playing the same Chopin nocturne he performed in 1939. He wrote his story down following the war, and it was published in 1946. The memoir was then banned by communist authorities and forgotten until it was reissued, due to his son's insistence, shortly before Wladyslaw Szpilman's death in 2000. (http://www.nypost.com/entertainment/movies/news/n5322.htm)

---
---
---
"The Pianist's Story" – An Evening With Andrzej Szpilman

On May 14, 2003 Andrzej Szpilman, son of Wladyslaw Szpilman – The Pianist, was featured for an evening of talk and music at the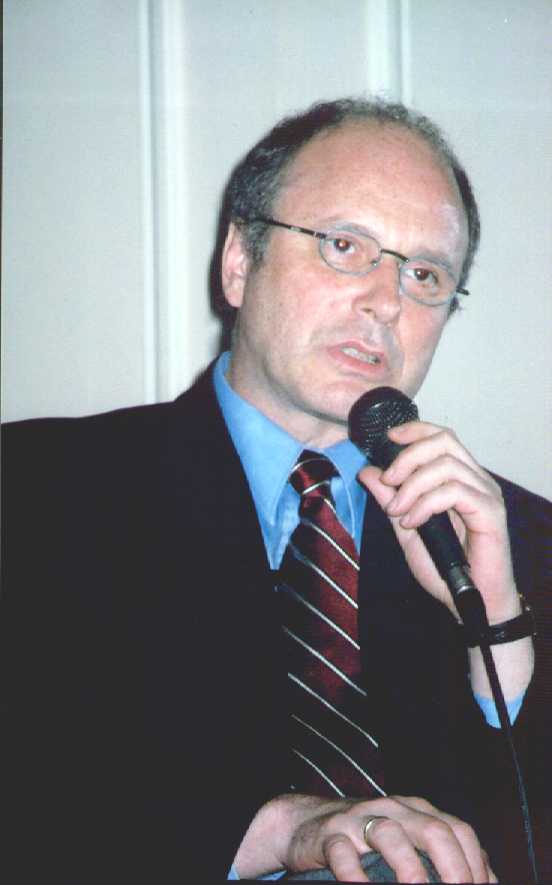 Polish Embassy in Washington, DC. The event was co-sponsored by The Thursday Dinner Society as inspired by Polish King Stanislaw August Poniatowski. Mr. Szpilman (left) addressed the audience at length concerning the life and times of his now famous father. He told the very interesting story of how and why his father wrote the book The Pianist: The Extraordinary True Story of One Man's Survival in Warsaw, 1939-1945. Recently the book was made into the celebrated and internationally acclaimed movie The Pianist by director Roman Polanski.

Also recounted were many personal and professional anecdotes and vignettes on all aspects of Wladyslaw Szpilman's life which held the audience spellbound for over one hour.

The Szpilman presentation was followed by a lively and very informative question and answer period as well as an interlude of entertaining piano music and a sumptuous Polish buffet.


text and photographs by Richard P. Poremski
Published originally in Polish American Journal, Buffalo, NY.
---
---
Kropka nad i z dn. 5.9.2002
Premiera Pianisty - bardzo aktualna rozmowa z Monika Olejnik
---
Gandzia (Andzia i ja)
Oddzial Zamkniety

Dwanascie piosenek, które zmienily Polske
Filip Lobodzinski, Robert Ziebinski, 18 kwietnia 2009 17:48
W papierowym wydaniu "Newsweeka" opublikowalismy liste 12 piosenek, które zmienily swiat. Natomiast w naszym serwisie newsweek.pl przygotowalismy zestawienie 12 utworów, które odmienily Polske. Jak zawsze zapraszamy Was do lektury, polemiki i tworzenia wlasnych list.
http://www.newsweek.pl/artykuly/sekcje/kultura/dwanascie-piosenek--ktore-zmienily-polske,38624,2
7. Andzia i ja, (A. Szpilman – M. Ciempiel),
Oddzial Zamkniety (1983)
Jedna z nielicznych polskich piosenek o której kraza autentyczne legendy. Mówilo sie, ze Oddzial Zamkniety mial spiewac w niej "gandzia" ale w ostatniej chwili cenzura im zakazala. No cóz cenzura swoje a zespól swoje i tak powstal tekst, który w umiejetny sposób polaczyl tresc erotyczna (przygodny seks) z historia o paleniu trawy. Kim byla "Andzia" sluchacz sam musi zdecydowac. Do dzis jest to jeden z najczscciej granych numerów na imprezach.
---
---
Wladyslaw Szpilman The Pianist Homepage